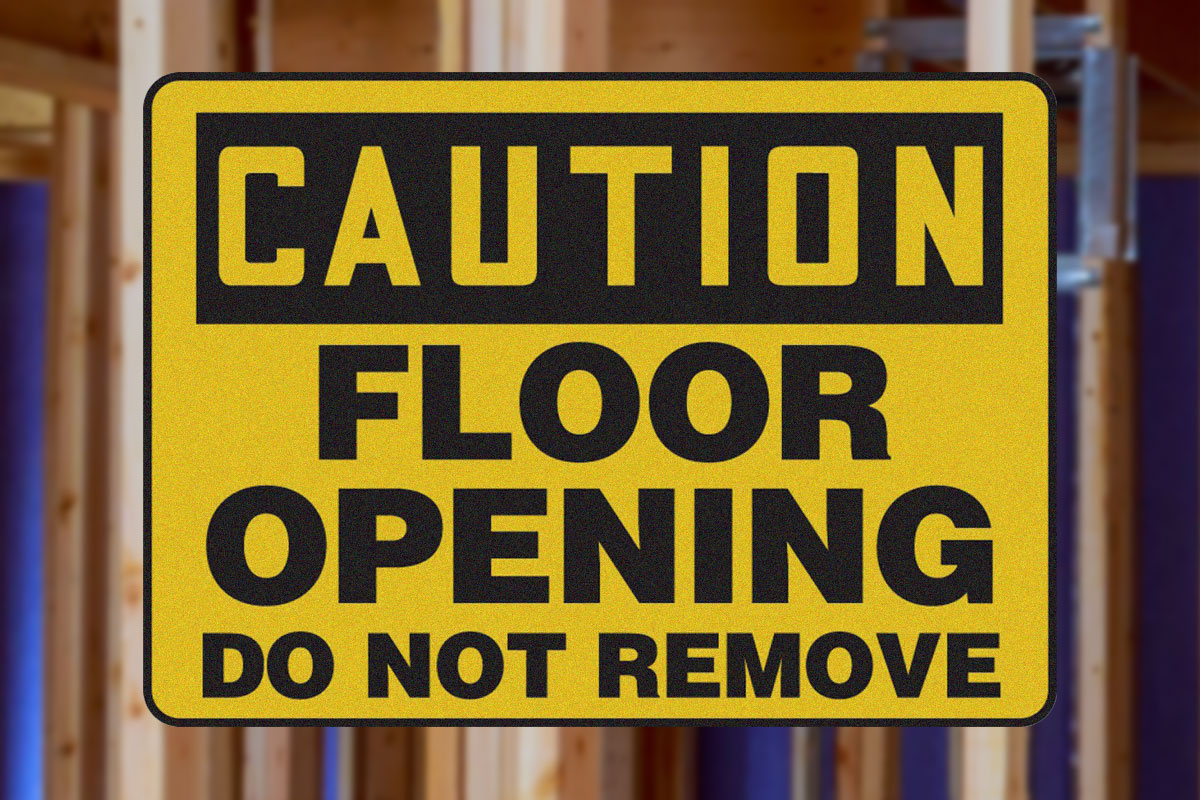 Playing it Safe: Construction
Floor Opening Safety Precautions – What Your Workers Should Know
It's no secret construction sites and on-the-job safety go hand-in-hand. Yet, the fact that falls are among the most reported construction site injuries may come as a surprise —especially when you consider these types of accidents can often be avoided.
Quick fixes such as plywood floor coverings allow construction workers to move quickly from task to task. Even though these items aim to modify a dangerous situation in the short-term, they can still pose a safety hazard. Here are a few examples of potential floor opening accidents:
A worker picks up a plywood cover to use in another area of the construction site and loses his or her balance while picking it up. Then, the worker falls into the hole and is injured.
A worker steps onto a tarp or cardboard opening cover not knowing what was under it and falls into the opening.
A worker drives a forklift over a plywood or cardboard covered opening and falls through because the load is too heavy for the covering.
A Safer Worksite
Share these safety tips with your workers to reduce the risk of accidents when working near floor openings:
Use guardrails (the preferred method of protection) or cover holes with planks, plywood or steel plates. Never use paper, tarp or cardboard.
Fasten the cover so that it is not easily removed, and use cleats on the underside that fit into the hole to prevent sliding.
Paint the cover a distinct color to contrast with the surroundings. Post a warning sign either on or near the cover to warn others.
Alert other workers of the location of a floor cover to prevent accidental falls.
Never sit on, lean against or step onto a floor cover without knowing if it can support your weight.
Guard all new holes immediately to prevent others from falling into them.
Always use a personal fall arrest system (PFAS), which includes a full-body harness, lanyard, connectors and appropriate anchorage points (tie-offs) when working over an uncovered opening more than six feet above a lower level.
Inspect PFAS daily and report damage to your supervisor immediately.
Notify your supervisor if there are any unguarded openings on the job site.
To further reduce your risk of falls, participate in all safety and health training programs offered by your employer.
Talk to a Construction Safety Leader
For more information, reach out to the people who have helped make construction sites safer for decades—VTC Insurance Group. To contact a VTC agent near you, call 248.828.3377 or visit vtcins.com.
This blog is for informational purposes only and is not intended as legal advice.